About the Artist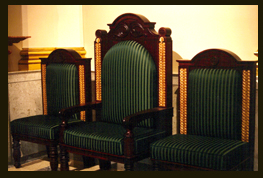 I began my career as a self-taught artist carving wildfowl while working as the manager of a large home center. Over time, my ducks, song birds and birds of prey began attracting attention of art critics and collectors, winning competitions along the east coast including wins at the World Championship in Ocean City, Maryland.
Over time, word spread about my designs and craftsmanship and I began working on architectural carvings for many types of clients. For the past 15 years, I have been involved in many collaborations with homeowners, architects and designers to create high-end woodworking for private homes, offices, churches and universities.
My work has been featured in a number of magazines, including Design NJ, Designer Kitchen & Bath, Architectural and Pennsylvania magazines. A particularly touching commission came from Runners' World Magazine to design and carve the trophies for the winners of Midnight Run, a race to commemorate the NYPD and NYFD after 9/11.
During my career I have had the pleasure of creating pieces for racing legend Mario Andretti and former Philadelphia 76ers president Pat Croce, among others. My work is also on display in Maryland's Dupont Museum and in the Pennsylvania governor's reception room.
The life-size re-creation of the image depicted in the Shroud of Turin is my most significant piece to date. All dimensions of this piece are exactly those shown in the original Shroud. Significant research was undertaken to ensure the accuracy of this piece. I met with doctors, researchers, theologians, authors and others who have thoroughly studied the Shroud. Before even setting chisel to wood, I meticulously sculpted a full-size clay model that enabled me to work out every detail. The sculpture now resides in the Alvernia College Chapel in Reading, Pennsylvania.
My lovely and understanding wife Beverly and I live in Bethlehem, Pennsylvania where we raised our two wonderful children, Laura and Mark.
---